Cruises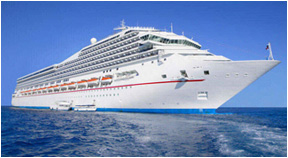 Land Vacations are great but Cruise Vacations are top of the pyramid. Cruising is a great way for singles or groups (families, churches, clubs, teams, wedding parties) to spend a vacation. Cruising saves money and provides amenities and activities for everyone. Combine business and pleasure. Reserve a conference room on the ship for your business meetings and enjoy the pleasures of the ports of call.
Cruising is a great way to relax, be pampered and escape the stress of day-to-day living. You may visit many destinations and experience their offerings and yet you have to unpack only once. Cruising caters to all budgets. We have 3 day getaways, convenient 7 day cruises to any destination, longer 12-17 day cruises and, of course, World cruises. Cruise the Caribbean – Eastern, Western or Southern. Cruise to Mexico – visit Cancun, Cozumel, tour Mayor Ruins. Cruise the Baltic and Northern Europe – Croatia, Russia, Mediterranean Cruises – Turkey, Spain, France, Rome, Greece, Barcelona, etc. Cruise to Alaska – land of the midnight sun, noisy falling glaciers; inland tours, see Mt. McKinley, the King Solomon.
Sorry
There are currently no trips listed. Please check back later.